Inspiration exists, but it has to find you working (Pablo Picasso)
An artist's creative process is one of the most fascinating topics I can think of. The finished products are what most people see, but how did it happen? To me, that is "the question". What was the inspiration? How did the artist decide what colors to use? What method did the artist use? Did the subject inspire the artist to venture into a different style in order to convey his feelings and vision? What is going on in the artist's brain before, during, and after?
Artists can seem like enigmas- and artist's studios mysterious places. Some artists are extraordinarily odd people, and some are extraordinary in their down-to-earth normalcy. Others fall somewhere in between. Where do their ideas come from?
Does the artist's muse actually exist? Probably one of the most profound examples of this is the American painter Andrew Wyeth and his model, Helga Testorf. Over the course of fifteen years, Wyeth created over 240 drawings and paintings of her-the series eventually being named "The Helga Pictures". What would drive an artist to paint the same subject repeatedly over the course of so many years? Wyeth himself said he had become "enamored" and "smitten" when he saw Helga-not in a romantic sense, but with her more visual attributes-the way she wore her hair, her clothing, the way she walked.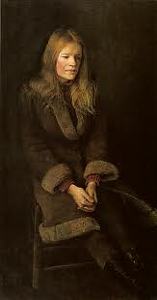 "The Helga Series"
An artist's muse doesn't necessarily have to be a person-it can be a place. When we think of Paul Cezanne our first thoughts are probably his still lifes, but in fact, he painted many, many landscapes of his birthplace-Provence, and one of his favorite subjects was Mont Sainte-Victoire.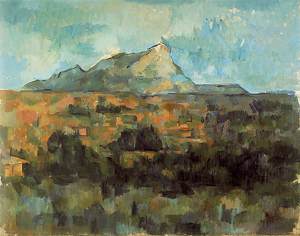 "Mont Sainte-Victoire, seen from Les Lauves"
There is a psychology to inspiration. Some artists feel that painting, drawing, or sculpting a subject is a journey of discovery that is not complete by merely creating it once. The journey may never be complete no matter how many times the artist creates it. Other artists choose a subject once, perhaps twice-never to revisit it again.
Artists see the world around them in starkly different terms than others. What one person is oblivious to or finds genuinely unimportant, the artist sees as beautiful, moving, inspiring -and is unable to ignore. The artist's brain is always working, even when the artist isn't working.
I find inspiration in many things; some are not surprising. I am inspired by other artists, certain artistic styles. I am greatly inspired by music, which also is not unique. Music creates different feelings and emotions which in turn are translated into visual art. I am inspired by language and literature. Sometimes I read a quote, or a passage in a book, or even a single word, and immediately visual images appear. Other things are a bit more familiar, in a sense that they are not particularly exceptional-wind blowing through an open window causing a drape to billow; certain colors may cause me to feel a certain way, and in turn inspire me to paint something or paint in a way I haven't tried yet. My greatest inspiration, however, is the human body-its lines, movement, strength, frailty. Exploring the capacity of the human form is probably the ultimate endless journey.
Whatever inspires us, it's always a unique dialogue between subject and artist.
Comment on or Share this Article →